Find out what travel documents are needed to travel with Eurostar.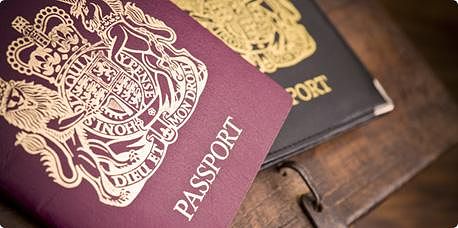 To travel on Eurostar each passenger needs a valid passports.
Babies and children must have their own valid passport too.
If the passport is in the passenger's maiden name, please advise them to take a copy of their marriage certificate when they travel.
A bit about UK station exit checks
Why are there new checks?
Since April 2015, we've been legally required to do extra passport checks for everyone travelling from our UK stations.
Where are these checks?
At St Pancras International, there's an extra check by UK authorities between the x-ray machines and French passport control.
What do they involve?
Our security team scan each passport with a handheld gadget and check that the photo in the passport is of the traveller. It only takes a few seconds.
Entry visas and passport validity
We can't offer advice about passport validity or visas, so please always check with the local embassy or consulate before making a booking.
Entry Visas
To find out more about visa requirements, please contact the relevant embassy or consulate.
For travel to France:
French Consulate General, London (English)
21-23 Cromwell Rd, London, SW7 2EN

French Consulate General, Brussels (French)
Boulevard du Régent 42, 1000 Brussels
For travel to Belgium:
Belgian Embassy, London (English)
103-105 Eaton Square, London, SW1W 9AB

Belgian Embassy, Paris (French)
9 Rue de Tilsitt, 75840 Cedex 17, Paris
For travel to the UK:
British Visa Application Centre, Paris (English)
18 rue de Prony, 92600 Asnières Sur Seine
British Mobile Biometric Clinic, Brussels (English)
Park Atrium, WorldBridge, Floor 2, Rue des Colonies 11, 1000 Brussels
British Mobile Biometric Clinic, Amsterdam (English)
Floor 3, Atrium Building, Strawinskylaan 3051, Amsterdam
For travel to the Netherlands:
Dutch Embassy, London (English)
38 Hyde Park Gate, London, SW7 5DP
Dutch Embassy, Paris (French)
7-9, rue Eblé, 75007 Paris
Dutch Embassy, Brussels (Dutch)
Kortenberglaan 4-10, 1040 Brussels
For travel to Germany:
German Embassy, London (English)
21-23 Belgrave Square, London, SW1X 8PZ

German Consulate General, Paris (French)
28 rue Marbeau, 75116 Paris
German Embassy, Brussels (Dutch)
J. de Lalaingstraat 8-14, 1040 Brussels