Refreshing our overbooking policy
We've made some changes to our policy for travellers without an assigned seat.
Why the change?
With the arrival of our new e320 trains, we're moving the seat allocation process from the onboard team to the station team.
This means we'll be able to allocate seats to overbooked travellers before they board, making the whole experience much smoother.
How does it work?
From now on, if a traveller makes a booking and we're not able to give them a seat, they'll be told to go straight to a member of the Eurostar team when they arrive at the station.
If we still can't find them a seat, we'll ask them to go through the usual security and passport checks before going straight to the information desk. We'll also give them this flyer, detailing the process.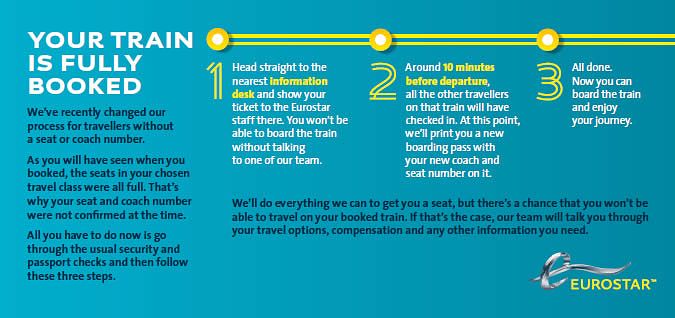 Once check-in has closed, any available seats will be released so we can give the traveller a new ticket with a seat and coach number.
In the unlikely event that there are no available seats, our team will discuss the available options, including any compensation they might be able to claim.
When will the change happen?
The new process is now in place in Standard class for all direct, non-stop trains from London to Paris, all London to Paris trains stopping at Ebbsfleet only, and all Paris departures.
Until we're ready to introduce this on our other routes, we'll use both the new and existing processes and continue to overbook in Standard class.
How will I know if my traveller has been assigned an overbooked seat?
Elgar
When making a booking and entering a seating request in Elgar, your passenger may be automatically assigned an overbooked seat if there are no other seats available.
A message will pop up saying, Specific seat not guaranteed. Go to manual check-in.
GDS
When overbooked seats are assigned to a booking, as well as only a coach number being displayed e.g C007S000 you'll also see an SSR message saying,
SSR OTHS 2385 SEGMENT/S OVERBOOKED REQUEST SEAT/S AT CHECK-IN.
Galileo
A message will appear in the vendor remarks.