With free connectivity throughout the train and power sockets at every seat, you can stay online and in the loop throughout your journey
FREE WI-FI, ALL THE WAY
Whether your customers are working or unwinding, they can email, tweet and post all the way using any wi-fi enabled phone, tablet or laptop – even in the Channel Tunnel (subject to connectivity).

By combining 4G and 5G mobile data signals wherever we can along the route, we'll keep travellers connected as we speed across borders and timezones.
Take a look at our coverage map below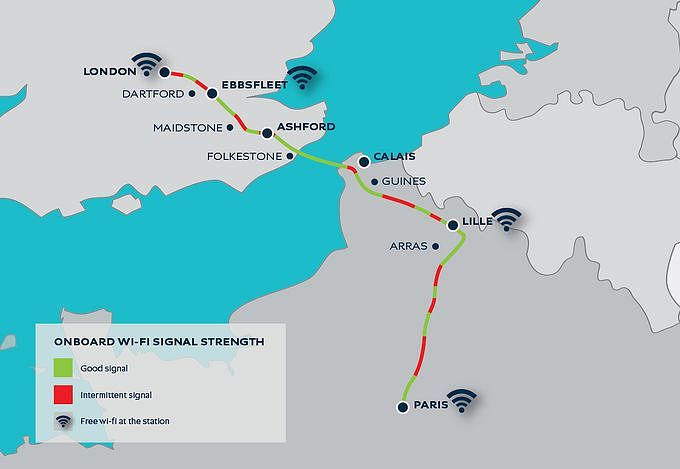 Our free wi-fi uses 4G and 5G signals en route, so the quality of the internet connection will vary, even if the wi-fi signal on your customers device looks good
If they lose your connection, we're probably just passing through an area with weak signal. There's no need to reconnect though. Once the signal improves, they'll be connected again automatically.​​​​​​
OUR CONNECTED ROUTES
Free onboard wi-fi is currently available on our fleet between London and Paris, eventually our internet connection will cover more of our routes.
FREE WI-FI AT THE STATION
Our departure lounges in London, Paris and Lille all have free wi-fi, as do all of our Business Premier lounges. So your customers can check the news, send a few emails or just post a sneaky selfie while you wait.
REASONABLE USAGE
To make sure everyone can enjoy a seamless connection, we'll be limiting connection speed, access to some video and music streaming sites, as well as those whose content isn't suitable for an open public network.