From bicycles to bagpipes, surfboards to skis, find out what travellers can and can't take, as well as how to track down lost property.
Luggage allowances >
One of the great benefits of travelling with Eurostar is that you only need to check in any luggage if you're taking more than your allowance.
Luggage Services >
All about registered luggage, parcel services and door-to-door delivery services.
Musical instruments >
Keeping your precious cargo safe and sound.
Sports and camping equipment >
Whether you're taking skis or a set of boules, here's all you need to know.
Prohibited and restricted items >
Discover which items are prohibited on board Eurostar.
FOCUS : Relics from World War sites
If you've been to visit one of the commemorative First World War sites, you've probably noticed that you can buy certain military relics from this era as souvenirs. Keep in mind, though, that certain items on offer are, for safety and security reasons, strictly prohibited when travelling on a Eurostar train.
You risk being arrested, prosecuted and face a large fine under French customs laws if you attempt to travel with any historical weapons, munitions, or explosive devices carried in your luggage or as part of your personal belongings.
This also applies to military shells and cartridges (even if they appear to be empty) in their original form or as repurposed items. Decorative artillery shells, like the vases in the picture, are also strictly prohibited.
These items are a potential danger to you and others around you. They have also been the cause of frequent station evacuations and significant travel delays when found.
We will also disregard any certification from sellers of such items claiming that they have been de-activated and are therefore harmless. The police will deal with each detected item in the same way.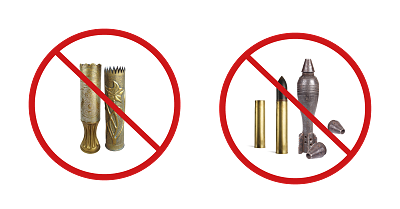 Bikes >
Travelling with a bike? Here are the options.
Lost property >
Learn about the processes Eurostar has in place for lost property.
Our alcohol policy >
To make sure everyone's safe, happy and healthy, we've got some rules around how much alcohol you can travel with.