In order to help you understand our accounting process, this page has been created as a guide to answer any questions.
**Please note this if for direct account holders only and not GDS users**

INVOICING AND TIMESCALES
You will receive a monthly invoice from us.
This invoice is run by day 2 of every month. This is your total payable amount.
You will also receive a supporting DAT file (details of transactions by pnr) by day 5 of every month.
Your Direct Debit is taken on day 17 of every month or the next available working day.
Any completed credits are deducted from the following months invoice.
DAT FILE INSTRUCTIONS
To open the Backup Details (.dat file) please follow the instructions below,
Save .dat file to any location on the hard drive or open the document in wordpad, word or notepad.
Open Microsoft Excel
Open .dat file via Excel if saved . – on the open screen, select 'all files' to view the .dat document. If copied, paste into excel
A Text Import Wizard pop-up box will appear
Select the Delimited button on the pop-up box - click Next
Ensure the Tab and Comma boxes are ticked - click Finish
Your dat file will provide you with the following information: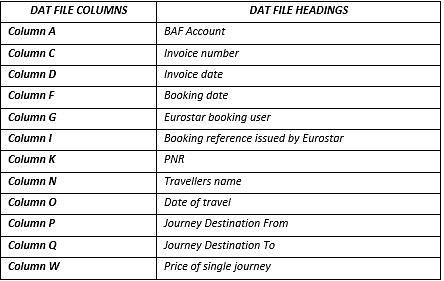 Should you have any difficulty with the above process, please contact credit.control@eurostar.com
For queries such as a replacement dat file or invoice, please contact Credit Control by emailing credit.control@eurostar.com
For queries relating to specific booking information such as status or itinerary, please contact Eurostar4Agents: